We have been busy planning your arrival. Here is what you need to know to prepare for your visit.
We realize this is a lot to read but it is important that you are aware of all the changes and requirements. It will save a lot of time for you and us if we don't have to repeat this information with each person over the phone.
New Appointment Hours (for a limited time)
​Monday (yes Monday) through Saturday
9:00 am – 7:00 pm (yes even on Saturday)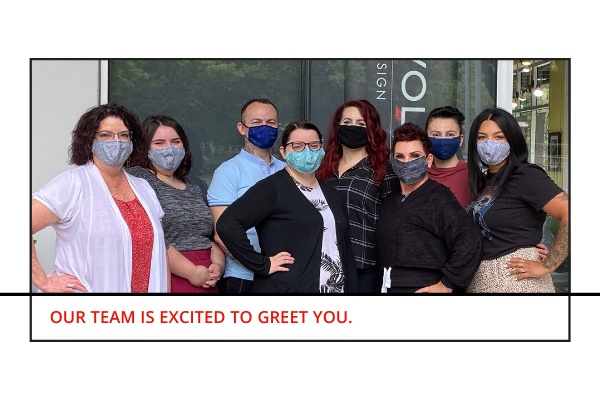 Prior to Your Arrival
​If you answer yes to any of the following questions you MUST call and reschedule your appointment.
Have you had a cough?
Have you had a fever?
Have you had shortness of breath?
Have you been in close contact with anyone with these symptoms in the past 14 days?
Have you been in close contact with anyone diagnosed with COVID-19 in the past 14 days?
If you are having your hair colored: Arrive with clean hair, no touchup powder or spray should be in the hair.
​DO NOT bring anyone with you that does not have an appointment. This includes children. The Governors' orders require us to limit our capacity to ensure physical distancing requirements.
When You Arrive
The Governors order requires us to make the following changes:
No waiting area. You may need to wait outside or in your car until the prior guest exits the salon and/or the salon team welcomes you in.
No books or magazines. You may bring your phone or another device.
No beverages provided by us. You may bring your own, but you must maintain wearing your mask.
No food (this includes our mints).
It is recommended that you leave your personal items, as much as possible in your car.
You must wear a mask during the duration of your time in the salon.
When you enter the salon you will be asked to wash your hands in the restroom.
During Your Visit
We will provide a disposable mask for your hair service.
Hand sanitizer will be available in multiple locations. Please use it before and after touching anything, including our retail products.
To ensure physical distancing requirements, there will only be three designers working per shift.
The salon will be limited to a maximum of 10 people. This consists of team members and guests combined. The Governors' orders require us to limit our capacity to ensure physical distancing requirements.
What You Can Expect from Us
A happy and excited team to welcome you! You have been missed.
It has been 3+ months since you have been in. We know this is a long time and you may have cut or colored your hair yourself. We absolutely will not make you feel bad about that. Our goal is to have you feeling great about how you look.
We do ask if you have put color on your hair, to be honest about what you have done. This is important to ensure the quality of your color and the integrity of your hair.
Everything has been cleaned and sanitized in the salon. We will clean and sanitize our stations, chairs, and equipment after each guest.
We will be wearing mask at all times during your visit. (the desk team will be wearing a face shield for phone calls)
We will wash our hands before starting your service and use hand sanitizer often throughout your visit.